Testimonies
11/3/2016- Ignacio Medina y su crítica al Restaurante Don Fernando
leer articulo
28/10/2014- 18 DATOS PARA TENER EN CUENTA ANTES DE IR A DON FERNANDO. TIENEN QUE PROBAR SU ARROZ CON PATO
leer articulo
Magazine SOMOS - Augusto 2014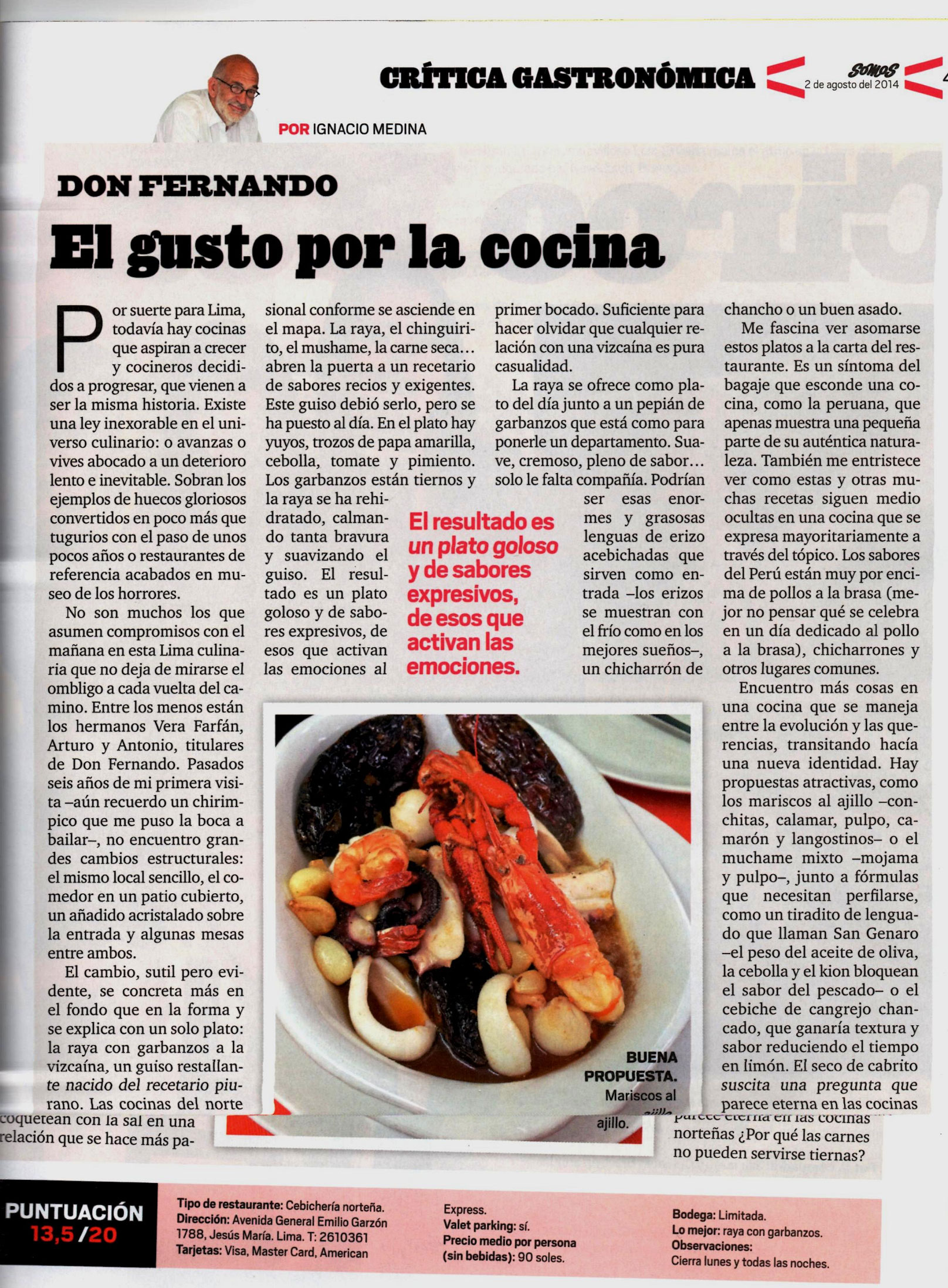 A Canadian and a Peruvizn bloggers visit me in march...
Le top 3 des restaurants à Lima
Les restos ne manquent pas à Lima, et de très bons en plus. Comme je ne sais plus trop où regarder-et sachant bien que plusieurs réputations sont forcément surfaites- je décide de demander à Renzo son top 3 des restos à Lima (meilleur rapport qualité/prix, etc).
ver mas
Elcomercio.com.pe:
Aprende a preparar un sabroso seco de ojo de uva
Don Fernando es un restaurante ubicado en el centro de Jesús María y que tiene en sus tradicionales platos el secreto de su éxito. Fernando Antonio Vera, su chef, presentó dos de sus: el seco de ojo de uva y los mariscos al pil pil.
Para el seco se necesita un medallón de pescado ojo de uva. Mientras la carne sella en la plancha, en una sartén se prepara un aderezo con ají mirasol, pasta de ajo, cebolla, culantro, arvejas, zanahoria, caldo y vino blanco.
Luego se incorpora el ojo de uva y deja cocer durante 10 o 15 minutos en el fuego, dependiendo del grosor del pescado. Se le pone papas amarillas y tajadas de ají escabeche para darle un mayor sabor. Se sirve acompañado de arroz.
Para el segundo plato, los mariscos se fríen en una sartén con dientes de ajo. Después se agregan los camarones y ajíes -previamente pinchados para que el aceite ingrese. Luego van los langostinos y los calamares, se flambean por unos momentos y luego se sirve.
ver mas
In the news:
zarela.com:
One sparkling fresh ceviche came one after the other, exciting my palate and filling me with joy...

ver mas
PeruThisWeek.com:
This restaurant was a breath of fresh air for me and a bit of a culinary secret...

ver mas
SAO PAULO:
"quizás el mejor cebiche que jamas probé es de DON FERNANDO"

ver mas
lamula.pe:
"The lider restaurant in their category by Summum guide the best 10 in Fish and Seafood."

ver mas